Our Businesses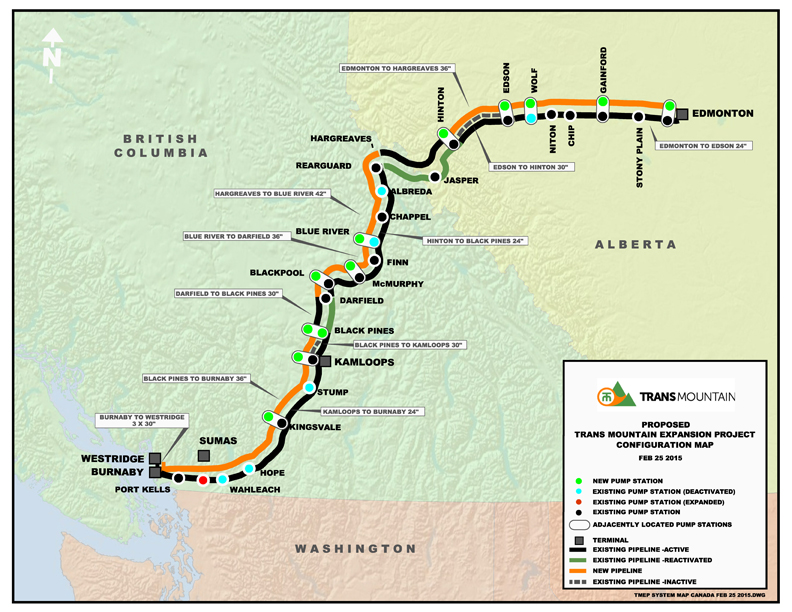 Trans Mountain Pipeline (TMPL)/Trans Mountain Expansion Project (TMEP) Pipeline Map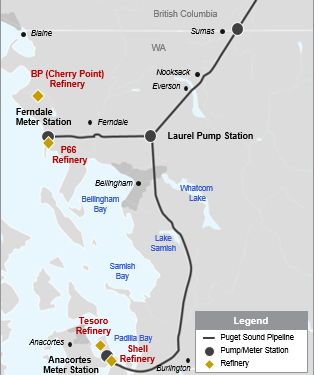 Puget Sound Pipeline Map
Pipelines Business Segment
Asset
Capacity
Trans Mountain Pipeline (TMPL)
~300 mbpd
Only pipeline in Canada transporting crude oil and refined products to the west coast
Trans Mountain Expansion Project (TMEP)
~890 mbpd
(~590 incr.)
Total capital costs currently estimated to be ~$7.4 Bn(1)(5)
Puget Sound
~240 mbpd
Ships from Sumas to Washington refineries via TMPL
Edmonton Terminal
7,960 mbbl
35 tanks in total, majority serving TMPL regulated service
(storage)
15 of 35 tanks leased to Terminals business (unregulated entity)(2)
– see Edmonton South Terminal below
Westridge Marine Terminal
395 mbbl
(storage)
Liquids export / import terminal in Burnaby, which can accommodate Aframax sized tankers
Kamloops / Sumas / Burnaby Terminals
2,560 mbbl
(total storage)
Kamloops: 2 tanks serving Trans Mountain (160 mbbl)
Sumas: 6 tanks all serving Trans Mountain (715 mbbl)
Burnaby: 13 tanks serving Trans Mountain (1,685 mbbl)
Jet Fuel Pipeline
45 mbbl
(storage)
Transports jet fuel from Chevron refinery and TMPL Westridge Marine Terminal to YVR airport(3)
Cochin (Canada)
~110 mbpd(4)
Canadian portion of pipe transporting condensate from U.S. to Ft. Sask(4)
Terminals Business Segment
Asset
Capacity
Edmonton South Terminal (2)
5,100 mbbl
(storage)
15 tanks currently leased from the Edmonton Terminal
Tanks leased to 3rd parties in unregulated service (merchant tanks)
Edmonton Rail Terminal
210 mbpd
(capacity)
Operated 50/50 joint venture with Imperial Oil (largest origination crude-by-rail terminal in North America)
Alberta Crude Terminal
40 mbpd
(capacity)
Non-operated 50/50 joint venture with Keyera (fully contracted)
Vancouver Wharves
4.0 mmtpa bulk + 1,500 mbbl p.a
Bulk commodity marine terminal provides handling, storage, loading and unloading services
North Forty
2,150 mbbl
(storage)
Merchant crude oil storage and blending services
Base Line Terminal
4,800 mbbl
(storage)
Operated 50/50 joint venture with Keyera (four tanks placed into service in January 2018; remaining eight tanks will be phased into service throughout 2018)
(1)Includes capitalized financing costs
(2)The Company currently expects that two of the 15 merchant tanks comprising the Edmonton South Terminal will be recalled by Trans Mountain upon the completion of the Trans Mountain Expansion Project for use in TMPL regulated service
(3)Jet Fuel pipeline system has a B.C. Utilities Commission approved settlement that ends in 2018
(4)Canadian Cochin pipeline system is part of the Cochin pipeline system which transports condensate from Kankakee County, Illinois to Fort Saskatchewan, Alberta. Capacity on the U.S. portion of Cochin pipeline system, which will not be owned by the Business, is approximately 95 mbpd
(5)See "Disclaimer – Risk Factors" and "Disclaimer – Risks associated with Growth Projects of the Business"